Men's lacrosse wins first home game in program history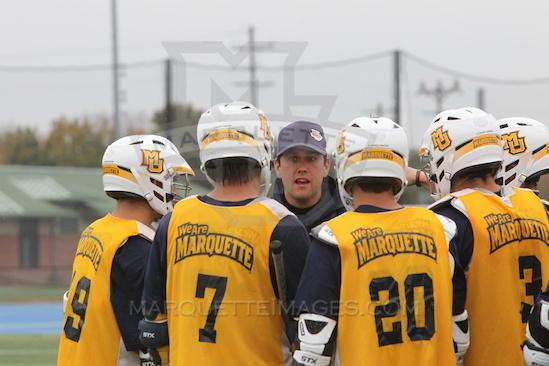 The men's lacrosse team beat the Detroit Titans 14-9 Saturday night at Hart Park in Marquette's first home game in program history. Redshirt junior attackman Tyler Melnyk led all scorers with four goals and six points overall.
Both teams came out of the gates evenly matched, with Detroit gaining a slight 3-2 advantage in the first quarter. The Titans' athleticism and dodging ability showed early, as two of their three first quarter goals were unassisted.
The Golden Eagles countered with organized and effective man up offense, capitalizing on both of their man up opportunities in the opening quarter. Marquette ended the game with an 57 percent success rate (4-7) in its man up chances.
The second quarter was marked by good defense from both teams. Marquette found an edge, holding Detroit scoreless and riding Kyle Whitlow on offense. The redshirt freshman midfielder scored his second and third goals of the game in the game's second stanza and was the only player on either team to hit the back of net in the quarter. Marquette went into the break with a 4-3 lead.
Coming out of halftime, the Golden Eagles built upon their 2-0 run, outscoring Detroit 6-2 in the third quarter. Redshirt junior attackman Bryan Badolato, who was sidelined for the last four games due to a knee injury, scored his first goal in his first game back in the middle of Marquette's run. He finished the game with two goals, alongside freshman midfielder Connor Bernal, who also scored twice.
The Golden Eagles entered the fourth quarter with a 10-5 lead, but two quick Detroit goals brought the Titans within three with more than 10 minutes remaining. However, immediately following Detroit's second fourth quarter goal, redshirt junior midfielder Cullen Cassidy won the faceoff and raced downfield to put the Golden Eagles up 11-7. His goal spurred a 4-0 Marquette run spanning the next five minutes, putting the game out of reach.
Marquette's win over Detroit was the team's second victory in a row, earning the Golden Eagles their first win streak in program history. Their overall record is 4-6.