Men's lacrosse to finally play home opener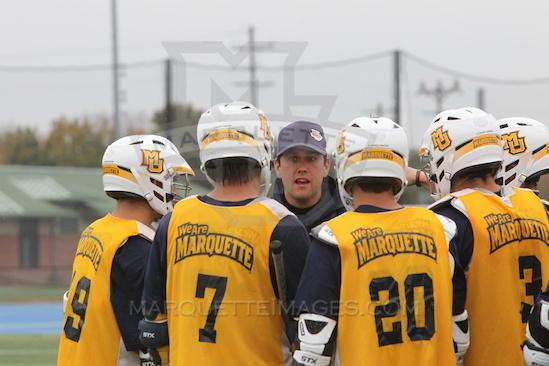 With a record of 3-6 and the end of its inaugural season in sight, the men's lacrosse team still has not played a home game.
That will change this Saturday when the Golden Eagles face off against the Detroit Titans at 7 p.m. at Hart Park in Wauwatosa. Shuttles will depart from the Union Sports Annex starting at 5 p.m. to take students to the game.
Marquette is the only team in all of Division I that has not played a home game yet. Even High Point, another first-year program, has played seven of its 13 games so far at home.
Redshirt junior defender Jerry Nobile said he and his teammates are looking forward to finally playing in front of a home crowd and building interest in lacrosse on campus.
"We've just been traveling all over the place; it feels like we haven't even been in Milwaukee for the whole semester," Nobile said. "Everybody is super excited to get a home game and see how many fans we've got coming out, and it's exciting to see if there's any buzz around campus."
Saturday's game also presents Marquette with the opportunity to string together multiple wins for the first time in program history. Having beaten High Point last weekend, the Golden Eagles will enter the game against the 2-8 Titans looking to win their second game in a row. Redshirt sophomore midfielder Ben Dvorak, one of the team captains, said attaining such a streak late in the season would help cement the foundation for next year's team to build upon.
"Since we have had some pretty decent wins in the past, Air Force and then this past win, it's a whole new feeling when you get two in a row," Dvorak said. "One is like, we did it, but we've got to keep the ball rolling. It's more of an accomplishment to a team when you get two and a row, three in a row. … To have the first-ever win streak for these kids, especially the freshman, that could help a ton for us."
Against Detroit, a team that is ranked 16 spots below Marquette in RPI, it is not out of the question for the Golden Eagles to be favored to win.
Coach Joe Amplo, however, said he is not ready to write his opponents off. He said Detroit, which joined Division I in the 2009 season, is an aggressive team that has been close in almost every game it has played this season.
"(Detroit is) going to come in with a little bit of an edge to try and prove something, like, 'Hey, look. We're a new program, but we're older than you, and we're going to show you guys how things are done,'" Amplo said.
Headlining the Titan attack is the two-headed monster of junior attackman Alex Maini and sophomore midfielder Mike Birney. The pair have combined for 34 of the team's 85 goals, with 17 apiece.
Amplo said he is focusing more on ensuring that his players execute their game plan than limiting Maini and Birney's production.
"We've got to take advantage of what we do well," Ampo said. "We've done a good job facing off, we've done a better job in the goal, we've played better team defense, we've been more disciplined on offense. If we can continue to do those things, then we'll be able to take advantage of some of what Detroit does."