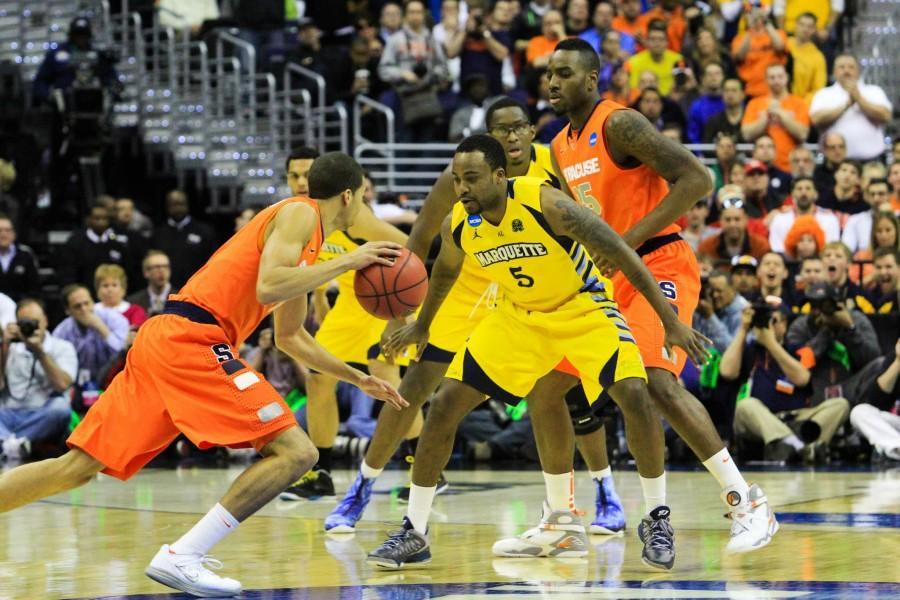 Marquette's Sweet Sixteen win over Miami was its best complete game as a team all season. It defied the "start slow, finish strong" trend that had defined the Golden Eagles' first two NCAA wins, as they dominated the Hurricanes from start to finish.
Saturday's season-ending loss was a reversion to the team's first two games. Against a highly talented Syracuse team, Marquette's comeback magic ran out.
"We just were not making shots we usually make," junior guard Vander Blue said. "(We) couldn't get stops; they were really good on the glass. I don't think anything was different from when we played them in Milwaukee."
In the first game, Miami shot a dismal 20.7 percent from the floor as the Golden Eagles' defense held the Hurricanes to 16 first-half points. Usually an effective three-point shooting team, the 'Canes hit just one of eleven attempted threes with Kenny Kadji and Rion Brown going a combined zero for seven.
Meanwhile, Marquette shot 44.4 percent and held a double-digit lead for a majority of the half's final 10 minutes. Blue and Jamil Wilson had 15 points combined, with Wilson starting strong from beyond the arc with a pair of threes.
In the Elite Eight, it was the Orange defense that dominated a low-scoring first half. In the first 10 minutes alone, Marquette turned the ball over five times and made just two of eight attempted field goals.
Wilson missed all four of his first-half attempts from the field, and after Blue scored the first points of the game on a three-pointer, he fell silent, missing his next three field goals.
It took a nice spurt from Davante Gardner to cut the deficit to six points heading into halftime. Gardner scored seven points, recorded a block, assisted on a dunk by Chris Otule and grabbed three rebounds in the final 10 minutes of the half.
Marquette had rallied from halftime deficits of two points and eight points in Lexington, Ky., so the situation certainly wasn't foreign. The Golden Eagles shot 41.4 percent in the second half to beat Davidson and 59.3 percent to knock off Butler.
The Orange defense clamped down, however, as Marquette shot just 18.7 percent from the field in the final 20 minutes.
Marquette had seen the 2-3 zone plenty of times during the regular season, but coach Buzz Williams said the Orange zone stood without comparison.
"To compare Syracuse's zone to someone else's zone I think is unfair to Coach (Jim) Boeheim and disrespectful to their players, because every game is a different game," Williams said. "They have pros. I think they probably have guys on their team that after they win the national championship may not play for Syracuse anymore. It is the zone, and it is the players in the zone."
While Blue led the team with 10 points down the final stretch, he had little support. Wilson ended up one for nine from the field, and Gardner couldn't continue his effectiveness, scoring just five points in the second half.
Marquette's 39 total points tied a record low in Elite Eight history, as the Golden Eagles never settled in and gained any kind of consistency on offense.
After a magical run, Syracuse provided a harsh reality check for the Golden Eagles.
"In order to beat Syracuse you have to hit shots, get to the free‑throw line and stop them in transition," senior Junior Cadougan said. "You've got to do a whole bunch of stuff to stop them.  Obviously today they were clicking real well. They did a great job from start to finish. We didn't get to the free‑throw line as much, we didn't hit the shots we usually hit and they came out with the victory."