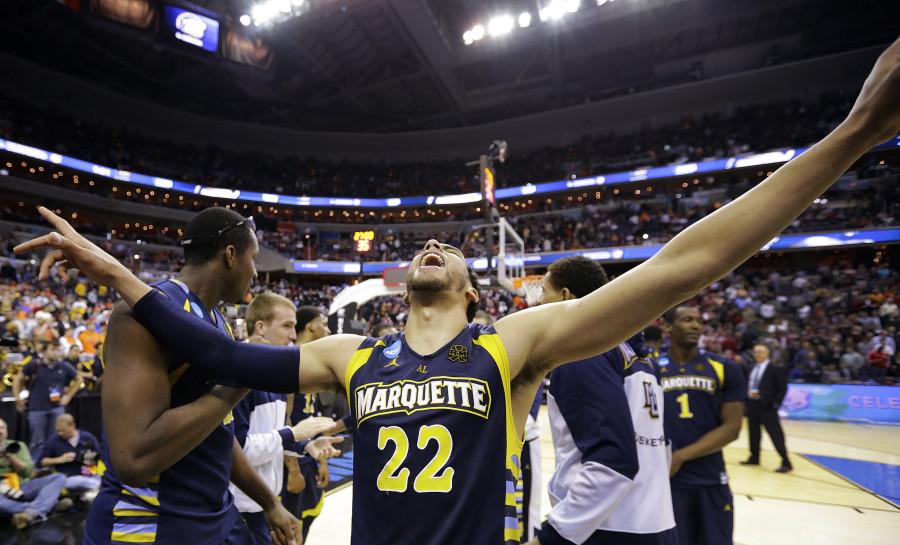 AP
Going into Saturday's Elite Eight, Buzz Williams didn't expect to see a familiar conference foe waiting for Marquette in the regional final. And frankly, the Golden Eagles' coach isn't too fond of having to matchup with Syracuse a second time.
"I don't want to play Syracuse again," Williams said Friday. (People say) 'well you know them, and you know their zone.' I know all that. I don't want to play them."
After the Orange defeated previously top-ranked Indiana Thursday night, who could blame Williams for his pessimism? They held the Hoosiers to a season-low 50 points in their Sweet Sixteen upset and forced 18 turnovers with their patented 2-3 zone.
"Their length causes problems no matter what type of defense they would be in," Williams said. "I think because (Brandon) Triche and (Michael) Carter-Williams are so long, that when you try to initiate offense above the free throw line, now their back line is above the first hash."
Williams added that the key to succeeding against Syracuse's harassing zone will be making the entire defense play from the three-point line to the baseline.
Marquette succeeded in doing just that back in February, when Davante Gardner scored a career-high 26 points in the Golden Eagles' 74-71 win over the 'Cuse in Milwaukee. While Williams doesn't expect Gardner to dominate to such a great extent this time around, he emphasized the importance of getting his junior center paint touches.
"I don't think [Gardner] will play that well again, and that's only because he's never played that well before or since," Williams said. "If you look at the games where we've won and the games where we've lost, Davante is a big pendulum swing in that."
Perhaps Syracuse's biggest pendulum swing player in 2012-13 has been senior forward James Southerland. The Bayside, NY native missed six games mid-season due to academic ineligibility, but gives the Orange a nearly unguardable offensive threat when his long range shot is on target.
"It's possible that the disruption and getting [Southerland] back, maybe that had some affect on us," Syracuse coach Jim Boeheim said. "It's possible (the way) that we're now playing, say, starting (in) the Big East Tournament and now, we would have played better if he had never gone out."
Triche has also stepped his game up lately for the Orange. Since an abysmal 1-for-9 night in Syracuse's blowout loss at Georgetown, he is shooting a steady 43 percent over the past six games. The 'Cuse are 5-1 in that stretch, only losing to Lousiville, the No. 1 overall seed in this year's tournament.
Williams has taken notice, and thinks playing the Orange at this stage of the season presents an unorthodox task for Marquette.
"I think they are playing a lot better than when we played them," Williams said. "When you're playing two games a week once you play [Syracuse], you really don't get back to them."
He credits the postseason all-Big East matchup to the strength of this year's league.
"It's part of having so many good teams in our league that go to the NCAA Tournament," Williams said.
As far as last minute preparations for Saturday's game go, Williams thinks his team can progress mentally.
"I don't know exactly what you can accomplish the day in between the Sweet Sixteen and the Elite Eight from a physical nature," Williams said. "A lot of your practice is mental and a lot of your learning on the floor and in the conference room is mental."
As far as what tomorrow's game means for his program, Williams is just along for the ride.
"(I'm) excited to be here, thankful to be here," Williams said. "Glad to be representing the Big East with Coach Boeheim."