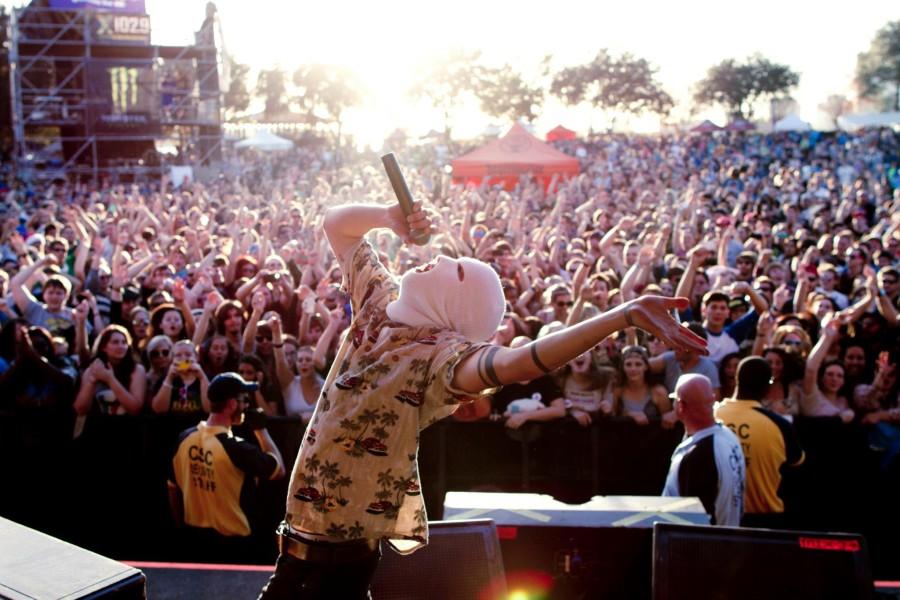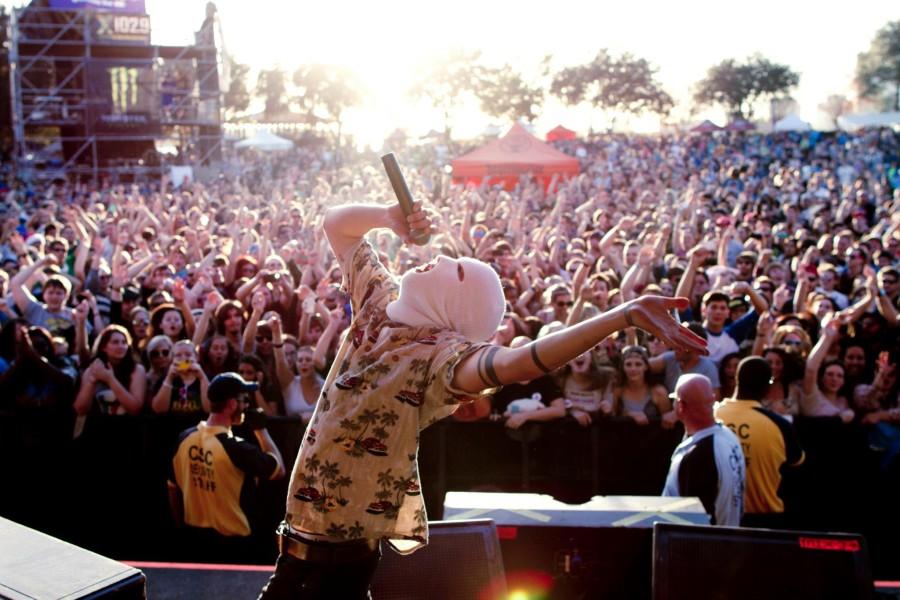 Marquette students have the opportunity to see three of the music industry's rising stars perform on a national, MTV-sponsored tour this weekend. And they won't even need to leave campus.
Marquette Student Media's annual free spring concert will present twenty one pilots with supporting acts Five Knives and Alchemy tomorrow at 8 p.m. at the Weasler Auditorium. Recently named one of MTV's Artists To Watch, twenty one pilots is among the biggest musical acts to come to campus in recent years. Its energetic music and onstage acrobatics have helped sell out shows on the band's current Trip For Concerts tour and will surely highlight tomorrow's concert.
Booking the show, however, was more complicated than Marquette Radio special events director Christina Kowalsky had hoped.
"twenty one pilots is a bit of a special case for me, just because my partner Sasha Molin and I have been following them for a little while," Kowalsky said. "(We even) contacted them last year about performing at the spring concert."
Unfortunately, that proposal didn't go as planned. Last year's spring concert fell on the same date as the alternative duo's hometown show announcing its signing to record label Fueled by Ramen. Nevertheless, Kowalsky was determined to bring twenty one pilots to Marquette.
"We kept in contact with their booking agent and just kept checking it out, seeing if the prices were raised and what their tour situations were looking like coming up," she said. "We did that for literally almost a year until finally we buckled down last semester and said, 'We definitely want twenty one pilots to come. Let's see what we can do.' After a bit of talk, seeing what their tour situation was, we got it locked down."
While the group's music is still relatively unknown by mainstream standards, twenty one pilots' popularity has skyrocketed since the band signed with its record label. Even just the past few months have been crucial to the band's national recognition.
"When we booked them at the beginning of the year, hardly anyone knew who they were," Kowalsky said. "It was a gamble, but there was no denying how incredible they were, and it was only a matter of time before people started recognizing that. Not long after we booked them, they started to get buzz. Their debut full-length (album) was released to amazing reviews, they entered into a high number on radio charts, and now they're headlining an MTV-sponsored tour."
Opening for twenty one pilots is Five Knives, an electronic-rock band that wasn't even supposed to be a band. Keyboardist Zach Hall and guitarist Nathan Barlowe worked together in Nashville as songwriting partners and started writing electronic songs together. Barlowe asked longtime friend Anna Worstell, now the band's lead singer, to add vocals to the tracks and put them online.
"The response became overwhelming where people were like, 'When and where are you guys playing?'" Barlowe said. "And we weren't even really a band yet."
Once drummer Shane Wise joined the group, they officially became Five Knives and released an EP, "The Rising," in February. Although Five Knives has only been performing as a band for a year and a half, its unique music style played a major role in landing a spot on the Trip For Concerts tour.
"twenty one pilots has the same booking agency (as we do)," Barlowe said, "and they were looking for a band to take out (on the road) that fits in with them because they cross stylize as we do. We have hip-hop, electronic, punk all in our music. I think we're a really good match with them because of that. Someone played them our music, and they liked it and said, 'Come on the road.'"
The 17-show series is the first real tour for Five Knives. The band is quickly learning that touring comes with many hours spent in a van with the same people and very little privacy. For Barlowe, the fans' responses to the show make up for the downsides of traveling the country.
"(There are) sold out shows almost every night," Barlowe said. "It's incredible. There's a line around the building two hours before the shows start every night. I didn't expect that. It's been good exposure for us."
Although Marquette is the only university on the tour, Barlowe said the group will perform like it does at any other music venue.
"We just bring everything we have every night," he said. "It's a fun performance, too, so I think people will like it."
The concert will also be an important one for members of Alchemy, a Milwaukee band that won the chance to open the show at the Spotlight MKE competition last month. Although they were invited by Marquette Radio to participate in the event, the musicians were initially hesitant about performing on Marquette's campus.
"Even though we love Marquette, we were a little apprehensive at first of just being a filler so that a Marquette band could win, to be honest," band manager James Beckman said. "But everyone was really nice, really cordial, and it was all about the music and supporting great local talent. It ended up being a great experience."
Opening for a nationally-known band may intimidate some musicians, but Alchemy seems to have enough confidence to overcome that pressure. The group released two EPs in less than a year, has booked headlining shows in Milwaukee and Chicago and is currently writing songs for its first full-length album. Tomorrow is just another step toward the band's goal of placing itself on the national music scene.
"These guys are polished," Beckman said. "They know their craft, and they prepare in every way possible. This is their biggest gig they've had so far for sure. They're ready for it."
While Beckman wants Marquette students to see the hard work Alchemy has put into its music, he said the entire concert is a rare opportunity that students should take advantage of, inadvertently praising Kowalsky in the process.
"Whoever thought of this idea for Marquette was a genius," he said. "To have a national tour come through – especially when it's now sponsored by MTV – alone would be great, but then to tie in a local band and to have your own local music fest tied into it is, I think, the icing on the cake. People are going to see three great bands. And for free on top of it. You can't beat that."