Men's lacrosse prepares for season opener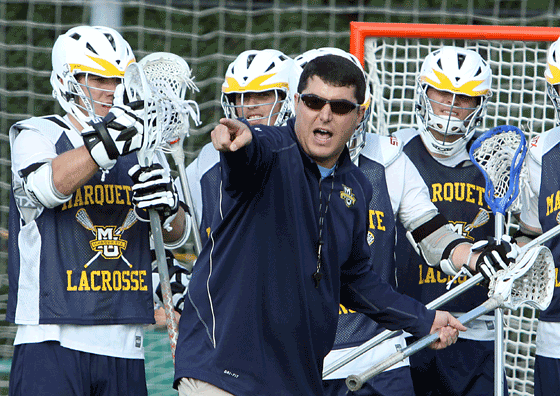 Former Marquette Athletic Director Steve Cottingham announced the addition of Division I men's and women's lacrosse on Dec.16, 2010. This Saturday, exactly 800 days later, the men's lacrosse team will travel to Columbus, Ohio, to face off against the Ohio State Buckeyes in the first game of its inaugural season.
Marquette enters the game coming off a preseason exhibition campaign in which it beat both Denison and Pennsylvania but lost to Michigan and Hofstra. Coach Joe Amplo said that throughout the preseason the team has ramped up its work ethic as the regular season opener approached.
"There has been an upgraded sense of urgency," Amplo said. "But I don't think our guys know just yet how important this needs to be to them … There is a heightened sense of urgency, yes. However, we need more because we want to compete against the best."
Amplo identified the players' "commitment to each other" as the Golden Eagles' key strength as they enter the first season in the program's history, but he added inexperience and youth will likely be obstacles.
Defensively, Amplo said Marquette will be led by redshirt freshman defender B.J. Grill. Amplo said Grill has distinguished himself as one of the team's most vocal and energetic leaders. He expects the 5-foot-7, 145-pound player to bring intensity and set the tone for the team.
"Because we're so young, I try to look at myself as the calm type of guy on the field and try to direct traffic," Grill said. "I am one of the more energized guys, but at the same time I try to remain calm on the field … because sometimes we need that subtle type of temperament."
Additionally, Amplo named redshirt sophomore midfielder Ben Dvorak, redshirt junior defender Matt Melnyk and redshirt sophomore midfielder Andrew Smistad as team captains this season. Smistad said the only thing on his mind is this Saturday's season opener against Ohio State.
"We have been trying to prepare against those specific kinds of sets (that we have seen Ohio State run on film) so that we're as ready as we can be for Saturday afternoon," Smistad said.
The Buckeyes are already 2-0 in 2013 and are ranked No. 17 by Inside Lacrosse and No. 19 by the United States Intercollegiate Lacrosse Association Coaches poll.
Ohio State's offense is led by Logan Schuss, a senior attackman and team captain who has tallied more than 30 goals, 15 assists and 50 points every year since he was a freshman. Schuss' numbers led the team in all three categories each year. The three-time All-Eastern College Athletic Conference first team member shows no signs of slowing down in 2013. In only two games, Schuss has already earned 13 points from nine goals and four assists.
Junior goalie Greg Dutton started every game for the Buckeyes in each of the last two seasons, missing just one due to injury. Dutton was named to the All-ECAC second team last year, posting the best goals allowed average, 6.92 goals per game, and save percentage, 57.5 percent, in the conference. Both marks also ranked among the top 10 in the entire NCAA.
Amplo said he is excited to see what his team can do against such outstanding competition in a game that actually means something.
"What better way to start this thing off?" Amplo asked. "We've said all along that we want to build a program that is championship caliber and competes against the best."