London for beginners
Samuel Johnson, or Dr Johnson as he is known here in London, once wrote "If a man is tired of London, he is tired of life." Living in this large and vibrant city, I would have to agree. There are many main attractions here as well as quirky neighborhood venues. If one is to understand London, they must first understand the basics of the city.
Map Basics:
[googlemaps https://maps.google.com/maps?f=q&source=s_q&hl=en&geocode=&q=London,+England,+United+Kingdom&aq=0&oq=london,+england&sll=37.0625,-95.677068&sspn=48.019527,104.414063&ie=UTF8&hq=&hnear=London,+United+Kingdom&t=m&z=10&ll=51.507335,-0.127683&output=embed&w=425&h=350]
"London" is a general term used to describe a bunch of borough cities smushed together that create the commonwealth of "Greater London". The best equivalent in the U.S. are the five boroughs of New York City, although the ones in London are far less defined.
For instance, I live in Southwark (pronounced "suth-eck") on the South East side of the Thames River (pronounced "Tems") but still in Greater London. The City of London (also known as "The Old City") is one very small area of what people consider "London". It was the original village of London created by the Romans way back when.
Many famous landmarks exist within the city of Westminister in Greater London (like Buckingham Palace, Westminister Abbey — where William and Kate got married and Princess Diana's funeral was — and Parliament — where Big Ben is housed). Other popular neighborhoods in London include Camden (famous for its alternative and punk scene), Stradford (home to Shakespeare and Olympic Park), Covent Garden (known for its shopping and bar scene) and Kensington (known for Princess Diana's — soon to be William's — palace and Hyde Park).
There are dozens of neighborhoods within each borough. Each neighborhood and borough has unique people who live there, pubs, shops and tourist attractions.
The River Thames divides Greater London almost in half. All things north of the river are on the "north bank," and all things south of the river are on the "south bank." The South Bank is "newer" than the North Bank, because the original City of London was established on the north bank of the Thames.
Old monuments and British stuff is on the north side, as well as many of the Tube stations. The South Bank is home to many office buildings, banks, hospitals and residential areas, although there are many residences, hotels, and attractions all over the city.
Transport Basics:
THE TUBE: "The Tube" is the name for the Underground or "Subway" in London. It is a series of underground train networks in tunnels that (appropriately) look like tubes. There are also walkways underground which Brits refer to as "subways" that will take you under the Thames river, under bridges and can link one underground station to another. Thus, if you see "Underground" and "Subway" on the same sign, you know it has trains and walking paths!
BLACK CABS: The iconic cabs of London are officially black, although official cabs can be grey, red or printed with an advertisement. All licensed cabs have a yellow "taxi" light on top and the same, iconic shape. There are also non-licensed taxis, which are essentially glorified driver services run by scam artists who claim victims wandering out of clubs in Leicester Square and Shoreditch.
BUSSES: The double-decker red buses of London are not only iconic: they are extremely confusing. London buses have daytime routes, Night Bus routes, 24 hour routes, weekend routes and heavy-commute routes. All these routes going to various places around the city make it the most confusing bus system, especially when compared to the measly Milwaukee County Transit bus system, which has few routes that go in straight lines and operate generally when scheduled, terminating at one very large bus station. Not only do London buses run in circles at all hours, they have about 20 lines that visit each stop. Oh yeah, and you have to flag them down, or they won't stop for you. Like a cab, only with 100 more seats and passengers.
If you are not taking a cab, a bus or the Tube, you're walking. A lot.
Tourism Basics: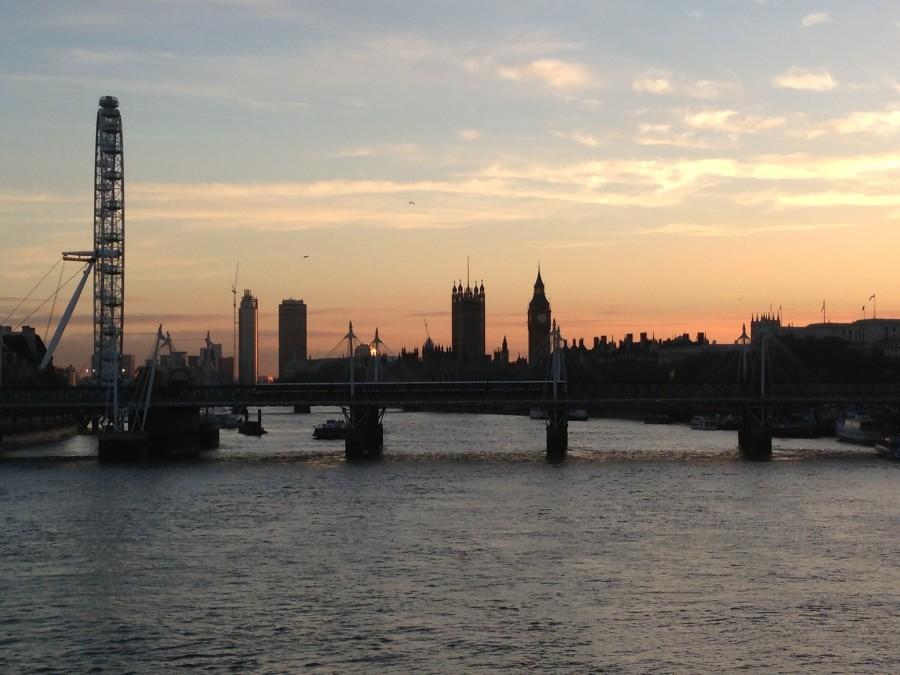 Some of the most recognizable sites in London include "Big Ben," the London Eye, Tower Bridge, the Tower of London, Buckingham Palace and (which is not a site at all) red Telephone booths.
All of these sites can be visited relatively easily, if you know where to look.
Most (other than Buckingham) are situated on the Thames and therefore easy to find – one just keeps walking along the river. There are also bus tours, walking tours and river boat tours.
The easiest (and cheapest) way to see sites in the city is to walk. Something famous can be found all the time if you just look.
Leave a Comment