LEARY: Williams, Pilarz doing solid job determining Marquette's athletic future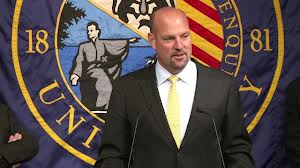 Hang on for a minute...we're trying to find some more stories you might like.
When I arrived on campus as a freshman in the fall of 2011, Marquette was in a time of major transition. With the retirement of University President Rev. Robert A. Wild and the resignation of Steve Cottingham, former athletic director, Marquette was undergoing change in two crucial offices.
The hiring of the Rev. Scott Pilarz as the new president filled the vacancy at the top of the Marquette food chain. I went to Pilarz's inauguration in September 2011, and he delivered a message of reflection, imagination and transformation.
In early December 2011, Marquette named Larry Williams director of athletics. Williams brought confidence and experience to an athletic department sorely needing both during an awkward period of conference realignment and sexual abuse allegations.
A little more than a year later, all of the hard work Williams and Pilarz put into Marquette's athletic situation has paid off.
Ever since the initial announcements of Big East departures for opportunities to make more money on football, being a supporter of Marquette athletics has been a powerless endeavor. We watched inferior athletic schools like Rutgers and Pittsburgh find cushy landing spots in the Big Ten and ACC while we were forced to reconcile ourselves with being considered equal to inferior programs like Central Florida, Tulane and Southern Methodist. In a December interview with ESPN 540, Williams talked about the weakness of the additions.
"I was not pleased that we issued an invitation to Tulane without any diligence to what effect that would have on our basketball product, the draw on our RPI and other such things," Williams said. "I was disappointed that I wasn't able to participate as a member of the conference in the deliberation that went into adding that."
The basketball situation of the future Big East insults the rich and successful history of the program Al McGuire built in the 1970s and discredits Marquette's other nationally recognized programs, like men's and women's soccer and women's volleyball.
Williams and Pilarz realized that, and so did the six other Catholic Big East schools. The 'Catholic 7' blossomed as a result.
Marquette is on the verge of forming a powerhouse basketball conference with historically elite programs like Georgetown, Villanova and St. John's. The potential additions of schools like Xavier, Butler, St. Louis and Creighton only add to the basketball prestige of the new conference jokingly referred to as the "Big Priest."
Regardless of how this realignment plays out, I'm confident knowing that my university made two great hires to secure the future of athletics and the university as a whole. That's something we can all rally behind.