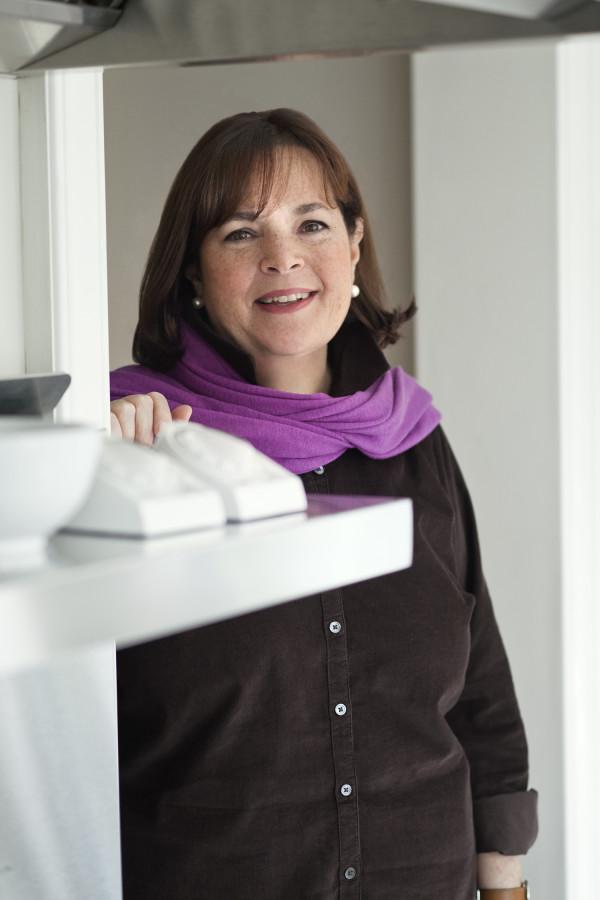 Food Network star and culinary icon Ina Garten is coming to the Riverside Theater Thursday, Nov. 29th as part of a tour to promote her new cookbook, "Barefoot Contessa: Foolproof Recipes You Can Trust." Garten was originally scheduled to appear in Milwaukee on Nov. 2 but has postponed the show due travel difficulties caused by Superstorm Sandy's effects on the East Coast.
The show, touted as "A Conversation with Ina Garten," will tie in an interview with discussion about the new book.
Garten, the star of the Food Network television show "The Barefoot Contessa" and a No. 1 New York Times bestselling cookbook author, will be interviewed by Nancy Stohs of the Milwaukee Journal-Sentinel and will also take questions from audience members.
Garten does not know what she will be talking about during the show, but one can guess her culinary career and new cookbook will take center stage.
"That's what I love about interviews; they are all surprises," Garten said.
In addition to the almost 100 recipes and 150 color photographs, her new cookbook also includes tips on shopping, entertaining, kitchen space management and setting the table.
For all eight of her cookbooks, Garten has focused on making her recipes "foolproof" so people at home can look at a photo of a dish, see how delicious it is, then look at the recipe and believe they can make it.
"A lot of people look at a recipe and think it is like an engineering problem," Garten explained. "You just construct it, and it'll come out perfectly every time, but in fact, every time you make something, the ingredients are a little different, or you have another way you want to try it. So it's a lot like driving a car; you have to make small adjustments along the way."
For Garten, "foolproof" is about the recipe coming out every time. However, it is also about making a delicious and satisfying dish that friends and family will enjoy.
"Cooking is hard; it takes a lot of ingredients, you go shopping, you cook, you clean up," Garten said. "I want recipes that I know will come out perfectly every time. And I wanted people to feel that way about my recipes."
Garten goes through an extensive process to make sure the recipe is perfect to be printed in the cookbook.
"I test a recipe, sometimes 25 times to make sure that it is really what I want it to be," Garten said. "Then, I hand a printed page to my assistant and say to her, 'I want to watch you make this recipe' for every single recipe in the book. And I watch her do things that I wouldn't have imagined how she would read the printed page, and I learn a lot from it. And the last thing I do is I serve it to people and see what they liked the most."
Because Garten has been cooking for so long, she said she often writes recipes without really thinking about it consciously. As a result, her process sometimes might leave out a detail she takes for granted, but that the cook at home might not.
"For example, I might be making caramel, and my assistant will get out a spoon to stir it, and I'm like, 'oh, no, no, you can't stir caramel with a spoon; you have to swirl it in a pan,'" Garten said. "So I watch her do things that I wouldn't have imagined somebody at home doing, and now I know. So I'll write in the recipe 'don't stir, swirl it.' It's really about the technical things."
As for Garten's favorite recipes in the new cookbook, she loves them all but does point to some special ones.
"I love the tomato soup with grilled cheese croutons," Garten said. "I've made the tomato crostini with feta many times, slow-roasted filet beef, the parmesan mayonnaise and of course, there are always sticky toffee dates that everybody loves."
Garten's journey in the culinary world started unconventionally. With no formal culinary training, Garten taught herself by working her way through Julia Child's seminal cookbook "Mastering the Art of French Cooking."
"I was working in the White House in my 20s with nuclear energy policy – a logical start to a cooking career – and I saw an ad for a business for sale in the New York Times," Garten said. "It was a small specialty foods store in a place I had never been, the Hamptons, and I went home that night to my husband and said I would really like to go look at it, and he said 'OK!' And we looked at it, and I bought it from the ad."
The 400-square-foot shop was named the Barefoot Contessa after a 1950s movie. Though Garten did not name the store, she opted not to change it after she bought it and kept the name for her show and cookbooks.
Garten owned the store at the beginning of the specialty food business in 1978. The shop sold salads, take-home dinners and imported cheese, which Garten remarks was "quite unusual" at the time.
"We made our own bread, we had smoked salmon and caviar, everything you would want to find in a specialty food store," Garten said. "We baked desserts, cakes, pies, cookies and stuff like that. It was quite small, so I was able to make my mistakes on a small scale, and over the years, it grew into a 3000-square-foot store."
After running the store for 20 years, Garten sold it to two employees and moved into a different area of the culinary world: cookbook author.
"I decided it was time to swim around in a different pond, and while figuring out what to do next, I thought I would write a cookbook," Garten said. "I had no idea it was going to be what I was going to do next."
Because of the success of her first book, released in 1999, the Food Network approached Garten to have her own show.
"Of course I said, 'Absolutely not, I would never consider it,'" Garten said. "They very kindly came after me for a few years, so I agreed to do 13 shows and thought, 'Well that will be the end of that.' Halfway was 10 years ago."
Throughout her culinary career, Garten has traveled all over the world, from California to France. She developed a respect for ingredients after traveling to France and seeing how people there handled them. Garten said she has come to believe that if a cook has really good ingredients, he or she doesn't have to do a lot.
"That's what's really infused in a lot of cooking for me: How you can take something down to its essential elements and make sure it's good," Garten said. "But it requires really good ingredients."