Letter from the Editor: Welcome to Tribune 2.0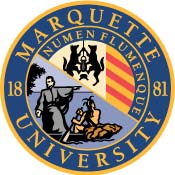 For those of you who followed Aaron Sorkin's new series "The Newsroom" over the summer, you've no doubt seen the widespread denunciation of the show's blunt idealism in its portrayal of the journalism industry.
But despite his writing's flaws, Sorkin's idealism does serve a purpose for journalists, one that applies very well to the newspaper you now hold. Because I have a confession to make on behalf of the Marquette Tribune: After being named the Society of Professional Journalists' Best All-Around Non-Daily Student Newspaper in 2010, we failed to repeat that success in 2011.
As much as I'd like to say that the SPJ simply picked another paper out of some arbitrary sense of fairness, I have to admit that the Trib had its shortcomings last year. Too often, our news coverage fell into a tired rhythm of writing the same kind of stories to the same length, issue after issue. Communication issues on staff sometimes prevented us from doing our best work. And yet again, we failed to follow through on our promises of an increased online presence.
On that note, however, let me be very clear: this letter is not intended in any way to be a rebuke of Matthew Reddin, my predecessor as editor-in-chief, or of Tori Dykes, last year's managing editor. On the contrary, I have learned more from both of them than I can recount here and consider them dear friends and mentors.
The reason we didn't repeat our success is simple: while other student publications across the country continued their evolutions last year, we focused more on continuing traditions that, in some cases, were far outdated. So when Maria Tsikalas, this year's managing editor, and I took the helm this spring, we began with the mindset that any part of the Trib was fair game for change. While in many cases we're hoping to continue the Trib's successful traditions, in some we went back to the drawing board. In any case, starting with the attitude that we could change anything allowed us to step back and evaluate what works and what doesn't.
We give you, then, a brand new Tribune, one we affectionately call Tribune 2.0 (another Newsroom reference). And our changes begin from page one, where we now feature more investigative reporting after we folded our Closer Look section into News, a change that gives our reporters more flexibility and freedom to pursue stories as they are rather than fit them to some historical inch count.
Our copy desk has also undergone a unification, as we now have four all-purpose copy editors rather than two dedicated solely to sports. On the visual side of things, visual content editor and resident wizard Rob Gebelhoff has given the Tribune a complete redesign from the ground up, and our website will soon follow suit with a facelift of its own.
In an effort to finally fulfill that promise of a better presence online, we've completely re-evaluated our web efforts as well. Our news desk will now be ready at all hours to cover breaking news online, thanks to a rotating team of reporters we call the First Responders.
We've also created Twitter accounts for each of our desks in an effort to improve our social media interaction, and we're excited to have six new blogs in the works, four of which will cover politics, viewpoints, arts and sports. One of the remaining two will provide satirical alternatives to our regular stories, in the spirit of The Onion. It's the last one, however, that we're perhaps most excited about: a behind-the-scenes view of the Trib's inner workings that, in its transparency, allows  readers to hold us accountable for the promises made above.
That transparency will go deeper than merely publishing corrections or posting pictures from our newsroom; we will be open in our behind-the-scenes blog, and throughout our publication, about not only our process, but our stances and objectives. And the first of those, now displayed proudly on our new nameplate (that sun behind the Q is actually the Jesuit symbol), is that Marquette should fully live up to its Jesuit ideals, should put the concerns of its current students before the university's public relations or how Marquette looks to prospective students. That position is reflected throughout our first issue, from our editorial on the university's new alcohol policy to our investigation into its sexual assault response protocol.
To the reader, then: Please hold us accountable to these promises. The first step in solving any problem, after all, is recognizing there is one. And to the Trib staff: We're not the best non-daily student paper in the country anymore. But we can be.
Andrew Phillips
Editor-in-Chief
[email protected]
Leave a Comment