'96 grad James Foley returns to campus, discusses Libyan imprisonment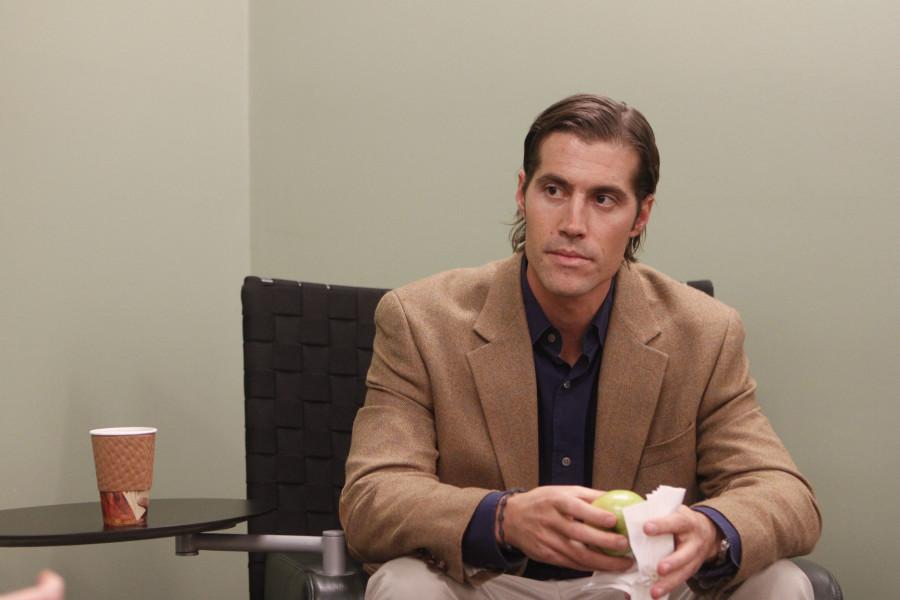 James Foley, a 1996 graduate of College of Arts & Sciences, returned to campus this week to speak about his experiences as a war correspondent and prisoner in war-torn Libya earlier this year.
Foley retold the story of his capture, imprisonment and freedom to a room filled with students, faculty and old Marquette friends yesterday at the Alumni Memorial Union.
"His ability to overcome a situation like that is amazing," said Janine Peterson, a senior in the College of Arts and Sciences, "It really makes you wonder what life has in store after Marquette."
Jordan Abudayyeh, a senior in the College of Communication, moderated the question-and-answer portion of the event and said it was an honor to get to know Foley.
"His story became famous, and for him to come back and share it with all of us was a great experience," Abudayyeh said.
Foley began his journalism career freelancing for GlobalPost, a small online newspaper, and traveled to Afghanistan in 2009 as a war correspondent.
On March 15 of this year, on assignment for GlobalPost, Foley landed in Libya amidst great chaos as disorganized rebel forces fought against now-deceased Libyan leader Moammar Gadhafi's regime.
For days, Foley and hundreds of other foreign journalists reported on the violent pandemonium rocking the rebel-controlled city of Benghazi. Foley described it as an experience both utterly terrifying and thrilling at the same time.
Amid the uprisings, Libyan officials began barring the foreign journalists from moving freely about the city. A series of checkpoints separated them from a photograph or a story.
"I found myself straining to get something new, something fresh," Foley said. "You were always pushing the limits."
On April 5, Foley and three other journalists decided to "beat the rush" and explore the city early in the day, before Libyan officials and other journalists had woken up. They hitched a ride with the rebels to a no man's land near the city of Brega.
Just outside the city, the rebels warned the journalists that Gadhafi forces were nearby, about 300 meters away. That seemed impossible, Foley said, so the journalists abandoned the vehicle. Not long after, the group of four were accosted by the pro-regime gunmen.
"It was the sound of something eating metal in your ear, combined with terror and adrenaline," Foley said in reference to the sound of bullets overhead.
One of his colleagues, Anton Hammerl, was shot in the abdomen. Foley said he tried to tell himself Hammerl had only fallen and was not gravely wounded, but the weak sound of the man's voice convinced him otherwise.
Foley jumped up and shouted the Arabic word for "journalist," trying to let the men know they were not the enemy. The Gaddafi forces ceased fire, but did not retreat. They beat, blindfolded and handcuffed the three journalists and dragged them to their vehicle. They left Hammerl to die.
After being interrogated, they were imprisoned in Tripoli for alleged espionage. For several weeks of his imprisonment, Foley and fellow journalist, Clare Gillis, shared a jail cell. Foley said they kept a daily routine including silent time, conversations, exercise and prayer to keep their minds busy.
Foley was then taken to a Libyan jail, where je shared a cell with ten Libyan political prisoners, men who he said understood his need to report the truth of the revolution.
On the 44th day of his imprisonment, Foley was given Internet access, and was able to see the strength of the support behind him at home. The "Free Foley" campaign, started by Foley's family, former colleagues at Teach for America and friends in his native New Hampshire and at Marquette, held a vigil in his honor at Marquette. The group also created an online petition and called on media outlets and the federal government to raise awareness of the journalist's plight in Libya.
The following day, Foley was given his freedom. But he was not done with Libya yet. Three months later, Foley returned, on an assignment for GlobalPost but also as a matter of personal and professional closure.
"Why wouldn't I go back?" Foley said. "People had done so much for me back home. I was humbled, I felt indebted to them. (We) wanted to connect the dots, we wanted to finish that story."
Leave a Comment