Busting Off-Campus Housing Myths
Living away from home seems like a piece of cake, until sophomore year comes and the prospect of signing a lease looms over students' heads. Many students rush into finding that perfect house or apartment with that certain group of friends,but myths and misconceptions have been passed from one lease-signing class to another, resulting in a house hunting process bigger and more worrisome than need be.
In an attempt to fill the gap, the Tribune hunted down four of the most popular housing myths. None of them turned out to be true, but discovering that left us with some good advice for students looking for on- or off-campus housing for the upcoming year.
You'll be left behind if you don't sign early:
Students who do not sign a lease for an off-campus apartment or house in the first few weeks of school are not doomed, said Stacie Dooley, associate dean for university apartments and off-campus student services.
Dooley finds that the current system, which pushes students to sign leases as early as possible, is flawed and puts too much pressure on students.
"Students come in sophomore year thinking they need to sign for a house or apartment right away and they look towards their friends to be roommates," Dooley said.  "What many people don't think about is, 'What if your friends change?'"
Dooley said it's not the students that are to blame for the early signing mentality — it's history.
Campus Town East and West, the two primary University Apartment buildings located along Wells Street between 15thand 17th Streets, were completed in 1994. At that time, leases were commonly signed in April and May.
But because the company building the apartments planned on them being ready for occupancy in October 1994, the university moved up the lease-signing date, expecting the apartments to be a hot commodity. It was a decision that changed the way Marquette students thought about off-campus housing.
"When the landlords in the neighborhood found out the apartments would be open for signing this early, they pushed up their lease dates in order to provide competition," Dooley said. "This single event shifted the time of year the leases were signed." CC
However, not every apartment fills in the fall, so students that wait until the spring can still find a place to live.
"Our office calls all of the off-campus housing in the neighborhood in the spring to help narrow down the search for students who have not yet signed leases," Dooley said. "Marquette has quite a few openings in the area; it really just depends upon what the students want in terms of roommates, distance and amenities."
Eric Ricafrente, a junior in the College of Communication, waited to sign a lease for this year until April. He ended up living with roommates who had signed the lease for their house in November 2010.
"My roommates needed two more people and I needed a place to live, so I signed onto the lease," Ricafrente said.
Ricafrente said he and his seven roommates were not concerned when it came to housing last year, but were concerned this year.
"As a sophomore I was like, 'Wherever I live, I live,'" Ricafrente said. "This year was different though … Our concern was to collectively move and sign before others capitalized on other opportunities."
Ricafrente and his seven roommates witnessed sophomores looking for housing while fellow juniors were trying to shuffle around to new places. Seniors, meanwhile, were planning their life after graduation.
"We found a place on Kilbourn that definitely fits our needs," Ricafrente said. "There are pros and cons but that is the case with every place."
Salvatore Bando, partner and owner of Cedar Square Management, said he was bombarded with phone calls and emails in late August and all of September this year.
"Last year October was a crazy month for us," Bando said. "This year, though, it began sooner and spots went faster. We have a total of 21 houses and three are left to be rented."
Bando said there is no rush, but it really depends upon the students to dictate when companies have their residents sign the leases.
"If students are all going to call us in September then that is when we're going to try and fill units," Bando said. "If they called in February then we would do it then."
There isn't enough housing:
With this years freshman class being the largest on record for Marquette, many students are worried about not having a place to live outside of the dorms come two years. The statistics, however, show otherwise.
According to Dooley and the Office of Off-Campus Services, last year 86 percent of students who applied for university apartments were placed in a unit on the night of sign-up. Some students dropped after leases were signed, having found other options. This resulted in a 91 percent placement rate.
In all campus-owned apartments and housing — Campus Town East and West, Gilman Building, Frenn Building and Humphrey Hall  — there are a total of 1,162 bed spaces.  Last year 863 bed spaces were filled, Dooley said.
Dooley said it all depends on how people place themselves.  Except for the single units on the east side of Campus Town East, each room is meant for two people. CC
"We have the ability to accommodate everyone who asks for on-campus housing. It just depends upon how students want to situate themselves," Dooley said. "We will not run out of room both on-campus and off." CC
Men live in houses, women live in apartments 
False. By no means do woman sign away from living in houses.
Annie Spindler, a senior in the College of Communication, lived in her sorority house during her junior year and currently lives in a house with six other women.  Spindler believes the notion of men living in the majority of houses on campus and women in apartments is untrue.
"I have lived in a house for the past two years," Spindler said. "I think there is a stereotype around houses. The notion that there are more parties, keggers, and it's dirtier and harder to keep up is something that is thrown around. You have to keep up on houses and apartments equally. It's not all like people say it is."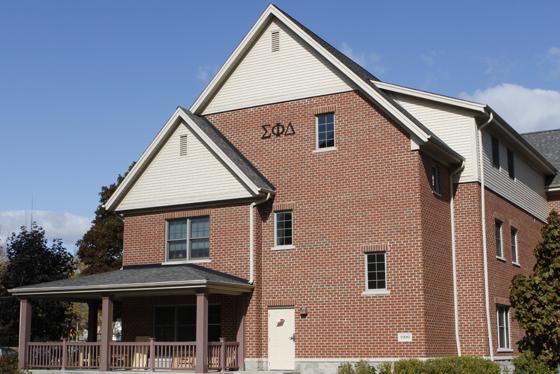 Bando said both men and women occupy Cedar Square houses, though he notices men live in more houses than women.
"This is not to say women or men belong in a certain place," Bando said. "We have a mixture. Both sides of two duplexes on 16th and 17th and Kilbourn are occupied by only women, as well as an all-female single family home on 15th and State; students of both sexes also live in the same houses."
Before living in an 0ff-campus house, Ricafrente said believed women would rather attend a house party than host one. He thought women would want a clean environment to go home to, while men would deal with the repercussions of a broken window on their own.
But after moving off-campus, Ricafrente's view changed.
"I realized more girls than I expected lived in houses," Ricafrente said. "I was surprised by the number of girls who lived in houses and I think they try to live in houses because of the money and amenities they can have  …  it's definitely not girls in apartments and guys in houses."
Specialized housing
For Lissie Crichton-Sapp, a senior in the College of Communication, signing a lease to live in the Catholic Women's house was a rather seamless process.
The Catholic Women's and Men's house are not affiliated with Campus Ministry but both have existed for ten years.
Crichton-Sapp said she knew she wanted to live in the Catholic Women's house, on the corner of 15th and State Streets, since her freshman year. She said she was fortunate to not have to rush into signing a lease like her friends did as first-semester sophomores.
"I didn't sign a lease until January of my sophomore year," Crichton-Sapp said. "I was fortunate to not have to deal with the stress and anxiety of housing and I felt sad for the other students who did."
The Catholic Women's house and its fellow Catholic Men's house have existed for ten years, developed as a place for Catholic youth at Marquette to live in community.
"The landlord makes his routine visits in October to have us sign the new lease, other than that we have no worries," Crichton-Sapp said.
[slideshow]
Photos by Aaron Ledesma/[email protected]
Leave a Comment