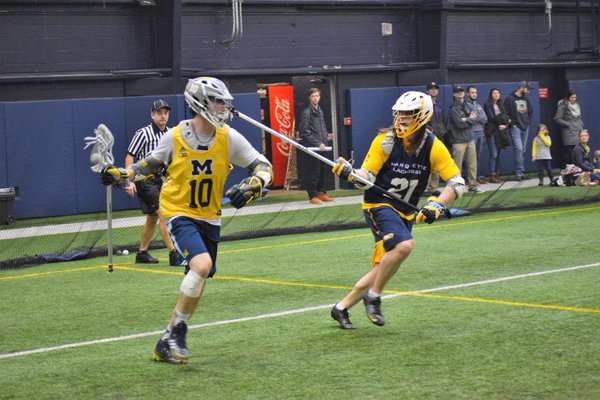 After a disappointing opening weekend of scrimmages, which included losses to Michigan and Denison, Marquette Lacrosse will look to correct its issues when it travels to High Point for an exhibition Saturday.
Head coach Joe Amplo said the two teams will play a fifth quarter, giving the reserves another opportunity after a dismal outing against Denison Saturday.
"We'll sub a little more liberally maybe later in the game depending on what their coach wants to do," Amplo said. "(The reserves) still deserve an opportunity to be seen, but they wasted a really good opportunity this past weekend."
The main advantage for High Point will be its play in the face-off X. Jamie Piluso and the Panthers won 55 percent of their draws last season as opposed to Marquette winning 43 percent. Chris Davila, High Point's backup, had a better percentage than the Golden Eagles at 44 percent.
"They've got two of the best face-off guys out there," Amplo said. "That's going to be the first challenge for us."
Marquette sophomore Owen Weselak, who takes over starting face-off duties after the graduation of K.C. Kennedy, will look to build on a strong finish in the Michigan scrimmage.
"I can't say he had a great performance. But he showed how to scrap, how to fight and came back in the fourth quarter against Michigan more than he had in the first, second and third quarter," Amplo said of Weselak. "He beat their best guy early. They took that kid out of the game. They put their second guy in, and he kind of rolled through our guys for two quarters."
Still, Amplo believes the two teams are nearly even. High Point's offense runs through their two senior leaders, Dan Lomas and Matt Thistle. Lomas was the Southern Conference's Offensive Player of the Year last season, scoring a team-leading 43 goals. Thistle led the team in scoring his freshman and sophomore season and was one point off the lead last season. Lomas and Thistle were selected in the Major League Lacrosse draft by Ohio and Boston, respectively.
Amplo believes that the Golden Eagles have a nice answer for the Panthers, since Marquette's top players will be assigned to them directly.
"Their star players, Lomas and Thistle, match up against our two players, B.J. (Grill) and Liam (Byrnes)," Amplo said.
Like Marquette and Michigan, High Point is one of the newer programs in Division I lacrosse. The Panthers went 10-7 (4-2 SoCon) in their third season of play.
Face-off in Marquette's penultimate scrimmage is set for 8 a.m. Saturday. Marquette will play its final exhibition next weekend against No. 15 Cornell in Philadelphia.